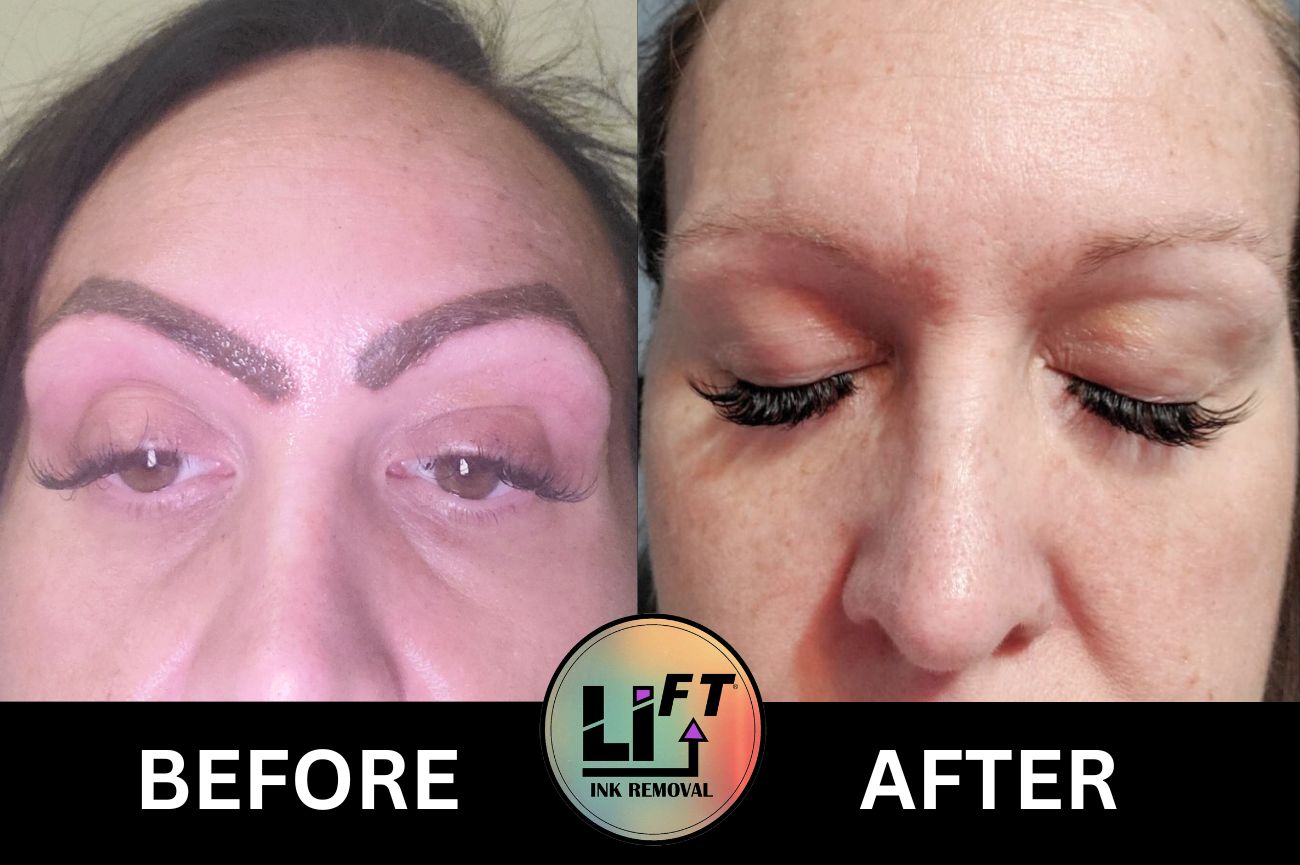 What happened?
This client was referred to Angie for saline removal of botched eyebrows done by another artist who was inexperienced & lacked proper training. The client waited 5 days to reach out for saline removal because she was told by her artist that they were "just swollen" & to "trust the process." So because it was 5 days after the initial treatment, we had to wait another 5 weeks to allow the skin to heal before beginning saline removal treatments.
What is the condition of the clients skin?
She has combination skin, dry in some areas but a little oily in the T-zone area. The client also has thin, sensitive skin so a gentle approach was important to prevent scar tissue from forming. She spent hundreds of dollars on high quality makeup and after her initial healing was done, she spent hours everyday concealing & covering up the brows only to have to redraw them on in a better shape.
What was the goal?
We saw good lightening taking place with each saline removal session and she was wonderful in her patience and trust in the process. Because of the trauma caused by this (both emotional & physical) our goal was complete pigment removal. After our last saline lightening session, I advised her to wait at least 6 months before considering re-doing the brows with new color, as her skin had been through a lot and needs time to rest for best results. She made it very clear that no one but me is ever allowed to touch her brows again and she'll let me know when she's ready for new color.
How many Li-FT saline sessions did it take?
After 9 saline removal sessions we've been able to lighten her botched brows so much you can hardly see them! It took about 1.5 years to achieve the end result.
Why did it take so long?
It is impossible to estimate how long, or how many saline removal sessions it will take to remove. Some cases may take less sessions and others might take more sessions. There are too many variables involved. How saturated is it? What type of pigment was used? What are the clients goals, to fully remove, or just enough to have them adjusted?
In this case the client's eyebrows are dark and saturated. Which is a big indicator that it may take several Li-FT sessions to remove. The client was seeking to have them fully removed, which will take more removal sessions to achieve. The eyebrows were badly positioned and shaped, an adjustment was not an option. Other factors that can cause more sessions when it comes to saline lightening is oily, thick skin or if the pigment was implanted deep.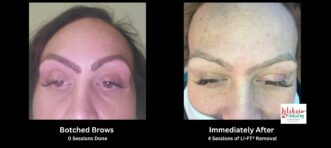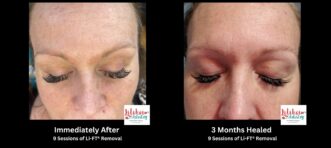 The pigment is about completely gone!
About Angie Radke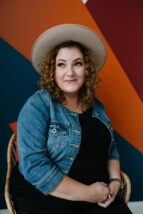 Hi, I'm Angie Radke, artist and owner of Lilikoi Artistry!  I am passionate about helping women feel more beautiful and confident, while looking as natural as possible.
I love learning and continuing to grow in my skills and in January 2017, I attended the Everlasting Brow Conference in Salt Lake City, Utah. I got to meet and learn from PMU industry giants such as Tina Davies, Rita Romo, Jenn Boyd, Will Anthony & Monika Ludwiczak. I have also attended Master Class Trainings for Eyebrow Shaping and Microblading at Salon Precis in Orem, and receive on-going education from Bowler Esthetics. In 2018 I became certified in Li-FT Lightening & Removal Techniques through Teryn Darling at Girlz Ink Studio in Las Vegas. In 2019 I completed 2 advanced trainings for Permanent Tattoo Eyeliner through Will Anthony and Teryn Darling and I am now also certified in the most advanced hairstroke technique in Tattoo Eyebrows with Dora Hollos' Blowzy Brow 3D Hairstroke technique .
I've completed an advanced Lip Blush course through Shea Danielle Academy. My newest certifications include the exclusive PixelBlading Artist certification from Brow Tricks Academy and the Advanced Eyeliner Tattoo certifications from Beauté Academy & Girlz Ink Studio. I've also taken advanced classes in Removals, Micro Tattoos, and multi-service protocols from my amazing mentor, Kara Gutierrez of Spot On Beauty. I am always so excited to continue to learn & grow in this industry and bring the best services to my clients.
I am proud to say that I have over 14 Permanent Makeup certifications to date, and I'm looking forward to learning more! I am currently seeing clients by appointment only at my studio in West Jordan.
I believe that supporting each other in this industry benefits everyone! The biggest tip I can give to other artists is to practice, practice, practice! We perfect the things we practice, so invest in practice skins, and spend a little time everyday practicing your technique. It will show in the quality of your work and the satisfaction of your clients!
Case Study written by Angie Radke
Edited by Girlz Ink